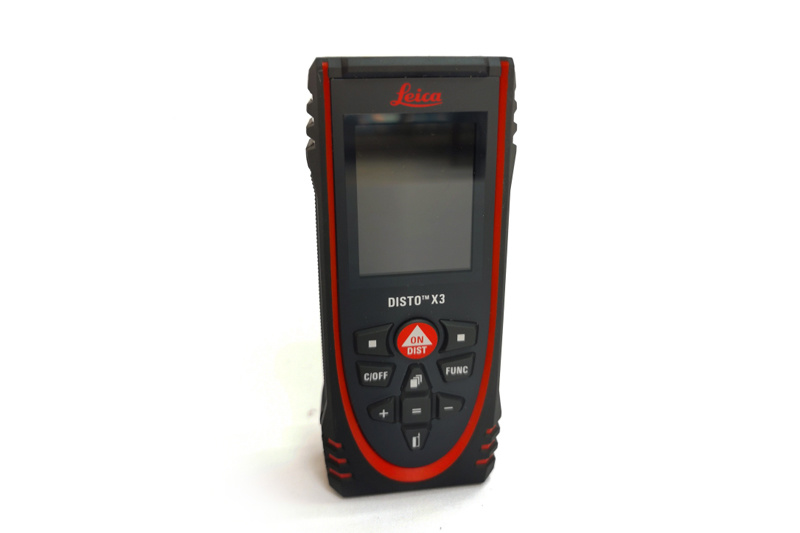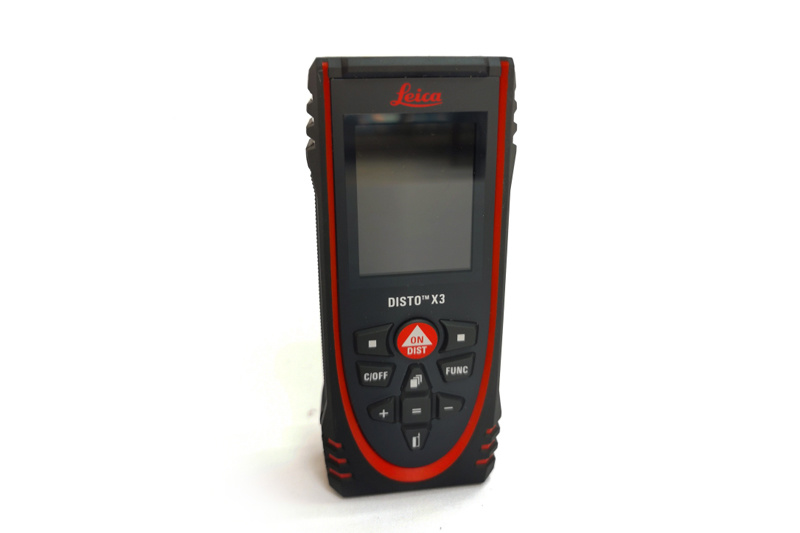 Leica DISTO X3 Laser Distance Meter / Rangefinder
The X3 is our first DISTO that is compatible with the DST 360, a smart tripod and adapter set that extends the measurement possibilities of your X3. With the DST 360, your X3 turns into a professional measurement station-you can take point to point (P2P) measurements from one location. 
Contact now
Product Details
---
It's got brawn and brains, too.
The X3 is a tough DISTO, but it's also smart. It includes our Smart Horizontal feature with an on-board tilt sensor so you can measure over and around obstacles. It also has Bluetooth® so you can transfer your measurements to your computer or tablet-and you can use it with the DISTO Plan App for iOS and Android.
Poor lighting conditions? We can help you lighten up.
The DISTO X3 has a bright, colorized, backlit display for taking measurements in all kinds of lighting conditions, ranging from dark indoor measurements in a basement to bright outdoor measurements.
Capable of Point-to-Point (P2P) measurement technology.
When used with the DST 360, the X3 can combine rotation, angle, and distance data to produce highly accurate Point-to Point (P2P) measurements, which allows you to accurately measure distances between any two points from a third position.
Make this DISTO even smarter.
Use the DISTO Plan App to access Sketch, Document, and Smart Room features to create detailed CAD-ready floor and wall plans, including doors and windows. Export your plans as .DXF or .DWG files.
Typ. distance measuring accuracy

± 1.0 mm / 0.04 in

Range

0.05 up to 150m / 0.16 up to 495 ft

Measuring units

m, ft, in

X-Range Power Technology

Yes

Distance in m

10, 50, 100 m

Ø of the laser dot in mm

6, 30, 60 mm

Tilt sensor

Yes

Tilt sensor accuracy to the laser beam

± 0.2°

Tilt sensor accuracy to the housing

± 0.2°

Units in the tilt sensor

0.0°, 0.00 %

Measuring range with DST 360

Horizontal

360°

Vertical

−64° to > 90°

Levelling range with DST 360

± 5°

Memory for last measurements

20

Display illumination

Yes

Free software for Windows

Yes

Free App for iOS and Android

Yes

Smart Room support

Yes

General data interface

Bluetooth® Smart

Data interface for 3D point data with DST 360

Bluetooth® Smart

Measurements per set of batteries

up to 4,000*

Service life of batteries

up to 8 h*

Multifunctional endpiece

Yes

Automatic reference detection for endpiece

Yes

Tripod thread

1/4"

Batteries

Type AA 2 × 1.5 V

Protection class

IP65

2 m drop tested "applies to the DISTO device"

Yes

Dimensions

132 × 56 × 29 mm / 5.20 x 2.20 x 1.14 in (H x D x W)

Weight with batteries

184 g / 0.41 lbs
Nanjing Cetu Surveying Instrument Co., Ltd. was founded in 2015. Our company is known as Nanjing Jingwei Surveying Instrument Sales and Service Center (founded in 1992), which was the former sales & service platform of Nanjing Surveying instrument Factory.

The main products of our company includes GNSS receiver, total station, laser distance meter, theodolite, level, walkie talkie, etc. Our company has distribution rights of FOIF, Hi-Target and many other domestic well-known brands. In addition, Trimble(America) authorized our company as a special contractor.
Over the decades, we have established great credit in the business, and we got the support of global users. "Quality first, customer first", we will always do our best to provide professional services for our customers.

Wechat
Contacts
Address: No. 36 Xinmofan Road, Gulou, Nanjing, Jiangsu